The countdown is on, we are approaching Christmas Day and people are starting to dig deep to get ideas for loved ones on their Christmas list. This is the perfect time to pamper the wet shaver in your life, or you can give that special someone a gift to introduce them to this cool traditional way of shaving.
If this gift is for someone new to the hobby you may be wondering, what do they need to get started? What should I be getting for them? Where do I get it from? I get these questions often (and always love it when I do) so I figured this season I would write up a quick little intro of things you need to get started.
The basics of getting started requires you have a razor to shave with, a soap/cream to protect for the shave, a brush to whip up the shave lather (in most cases) and blades for that razor (if you opt for a safety razor vs a straight razor). There are other things you can add to the shave to add to the experience like a quality pre-shave product, a post-shave product, a lather bowl or scuttle, etc. For this article, I'll skip straight razors and single edge razors and I'll go through the products I started with when I got my first kit.
1. Safety Razor – this will be the backbone of the shave. They typically come in 3 styles: a 3 piece, a 2 piece or a twist to open. All can work equally well. You don't need to spend a lot of money on this to get a good razor but if you do spend a bit more it is an investment that can last a lifetime. I like the Rockwell series of razors for an intro kit as they are a good balance between budget and performance. Edwin Jagger DE89 series is another very popular starter razor and many other razors are based off that same razor head. I have a Haward safety razor that has this head style and it is a really nice razor. If you want to spend a bit more for a high quality product that will last a lifetime, I'm a big fan of the Karve razor.
2. Brush – this is the tool you will use to whip up a great lather and adds to the shave experience. The 3 most popular types are synthetic, boar and badger. Boar is a great intro priced item but takes some break-in and getting used to. Badger is also very popular but the price-point is higher and there is a large variety of qualities available. For my money, I recommend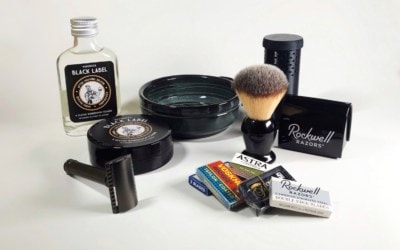 starting with a quality synthetic brush.  Be wary of the cheaper ones, the knots feel very plastic.  Plisson style or tuxedo knots are great to start with as they are soft but lather well and perform very consistently. I'd try to find 22mm or larger sized brushes. If you are shopping for the experienced shaver, here is where you can add some wow factor by picking up a new brush. Artisans are doing amazing things with shave brushes these days.  Spiffo, Paragon and Wild West Brushworks make some of the favourites in my den.  Rockwell and Stirling Soap Co make a really nice entry level synthetic as well.
3. Soap/Cream – this is another area you can find a tonne of variety in scents. You will find hard soaps, softer soaps and creams. The softer soaps and creams are often easier to lather for the beginner. The creams tend to not be as high of a quality of performers but have a lower learning curve. There are also brush-less creams, I highly recommend avoiding them.  I suggest looking for an established artisan and picking up a scent that speaks to you.  Take a browse through my SOTD section for lots of ideas or artisans and products to start from.  If your recipient has a favourite fragrance they wear, that can help choose a scent.  Many fragrances these days will have a shaving set with a matching homage scent by an artisan (Creed Aventus for example, there are at least 10 artisans I can think of that have their own Creed Aventus inspired soap). Look at the product ingredient list for stearic acid (or Potassium Stearate/Sodium Stearate). Most shaving soaps have that for building that nice stable lather. Without it, you run the risk of grabbing a bath soap and the shave isn't nearly as pleasant. (Unfortunately the Christmas craft shows are notorious for having these).  Soy Wax can also fill that gap. Without that, I'd suggest passing for a different product.
4. Post Shave – there are several products in this space. You will find splashes that are alcohol-based (more traditional, with that Home Alone face burn), witch hazel based (newer style, less burn, more skin friendly) and you will find balms/salves that tend to be a bit more on the skin healing side. I recommend starting with a splash in a scent that matches or compliments the soap you picked. It is a good balance between performance and scent and tends to be an easier transition for shavers.
5. Blades – There is a tonne of options here. I'd suggest finding a vendor that offers a blade variety pack. This way the recipient can choose which they like best and order those next time. You may be tempted at feathers as they have a reputation for being sharp. For a new shaver, don't. They are very sharp but can also be uncomfortable for new shavers and can turn them off the hobby. I like to start with milder blades like Astra Green, Gillette Wilkinson Sword or Voskhod blades.
6. Lather Bowl – OK this one isn't necessary but I'm going to toot our own horn here. When first learning to use a soap and brush, a lather bowl is a great tool You load up soap on your brush and then you make the lather by working the loaded brush in the bowl and slowly adding water. Here you can perfect that lather build to give you a better result than any canned goo. Once built, you brush on to your face. I still use my lather bowl daily as I prefer it to building a lather on the face. They make nice showpieces in the den.
7. Blade bank – these are cheap but a great way to keep your old blades. After you are done using the blade (typically 1-5 shaves) you just drop the blade in the bank. Once the bank is full you can drop it at a metal recycler and they keep them away from the landfill. The banks also keep their sharps away from little hands that may be in the house. Sure you could use an old plastic margarine container, but who wants that on the shelf?
With those things in a den, any new wet shaver will be off and running. A basic setup with a new soap and assortment of blades will last months. When it comes time to add more blades or soap/aftershave you will be surprised at how budget-conscious they can be. AND if your recipient falls in love with the hobby, you have now solved the gift-giving conundrum for years to come. There is always a new soap/aftershave you can pick up for them and they will be forever grateful.
If you want to take action on getting a setup today, check out our store section of the website. We have curated a limited run of intro kits that contain everything you need to get started from brush to blades and we have other interesting shaving items like lather bowls, scuttles and apparel. Also, check out our vendors section for links to other great Canadian sources for tradition wet shaving supplies. Thanks for the interest and we hope this Christmas, with your help, we can introduce a few more people to this wonderful way of shave.