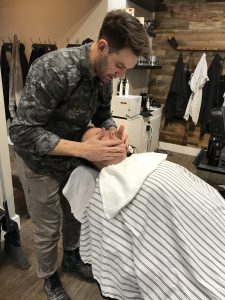 This past Friday we had a grand opening for a new barber shop here in Warman, SK.  I received an invite to attend the celebration at The Barber Corner.  This new spot (a section of Passions Beauty Salon) offers a traditional barber shop area for us gents to enjoy.  They offer hair cuts, beard maintenance and the classic hot shave.  I figured what better way to celebrate a grand opening than with a hot shave myself.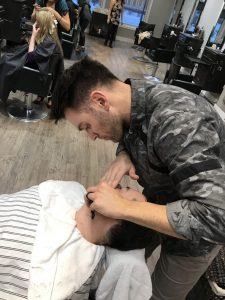 I booked in for a shave with Barber Harder, and he graciously offered to hook me up.  I arrived shortly before the grand opening began so I had that clean shave to start the evening.  The shave started with moisturizing spritz and a preshave oil.  I then got wrapped in the hot towel treatment.  He then prepped me for a shave.  The product he used for the shave was a brush-less/lather-less cream.  If there was a negative to the experience, this would be it.  Performance was more than fine, but it just wasn't the traditional hot shave experience I was expecting.   For hardware he used a Kai shavette with a Captain Sharp blade.  It performed as I expected it would.  A couple passes and then he finished up with a post shave product.  I didn't get the name but he mentioned it was a natural product from Australia.  It was really nice stuff, super hydrating.  Cory finished up by cleaning up my neckline and I was on my way.
After the shave I stuck around for the grand opening festivities.  A couple of beverages, a couple of slices of Za and good visit with some fine gents.  A great way to spend an evening.  A hot shave is always a nice treat, and it is awesome to have the option so close to home.  I LOVE the fact they have online booking on the website, making it easy to pick an appointment around any schedule.  I look forward to the next time I get to treat myself to a hot shave.
The Barber Corner
https://www.passionsbeautystudio.com
The Barber Corner
106 Central St E
Warman, Saskatchewan S0K4s0