Razor: Blackland Vector
Blade: some garbage
Brush: Smilezformilez Wasp Tail V69 Fan
Soap: Sphinx Beard Oil Chokecherry
Aftershave: Sphinx Beard Oil Chokecherry Splash
Other: Captains Choice Standard Copper lather bowl, Zoha Aroma Zoha Aroma Cherise
Wow, today's shave may look great but it was hot garbage.  So bad I almost skipped posting.  Let me explain…..
I had a couple mail calls this week including this Smilez brush, lather bowl and loaner Blackland Vector.  The soap and splash are white labelled A&E products that I'm quite familiar with (Kaizen base) and have used previously with some success so I figured it would be OK to run with a shave of all the new stuff.  Not something I usually do and I set myself up for failure.
First off, let's talk about the bowl.  You may be wondering why I would pick up a lather bowl from another artisan when we make our own.  It is as simple as this, I'm a hobbyist first and a shave company second.  I've always had great appreciation for the Captain's Choice bowls and the copper one always intrigued me.  I wanted to add one and have no problem supporting another awesome artisan.  It didn't arrive without some troubles unfortunately and had some cosmetic damage.  It doesn't effect use and am happy to report the seller/artisan took care of me 100%.  No complaints at all.  Since it is functional (and I can hide the cosmetic issues) I did want to highlight it and use it a bit (I've used it several times since picking it up).  I do think it is a pretty darn cool.  Very light, comfortable to hold, and usually produces a fantastic lather…..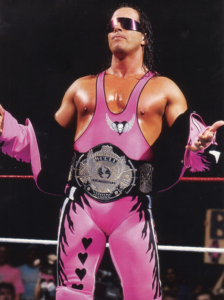 I say usually because I struggled mightily today.  I don't use natural fibre brushes often and still struggle with them on occasion.  Today was one of those days.  I just couldn't get the water to soap ratio right and was struggling to get the lather dialled in where I wanted it.  This new Smilez brush I commissioned looks stunning (I call it the Hitman as Bret "the Hitman" Hart was kind of the initial inspiration.  This v69 knot feels quite nice but I'm still getting used to it.  I loaded heavy but must have had too much water in the knot when I went to load.    Undeterred, I started the shave with the lather I got.
Right away I knew I had a couple issues.  First, the blade in this razor absolutely sucked.  The blade had a tug to it.  I couldn't tell you the maker of the blade as it was a no name included with a shavette I picked up.  I aborted the razor and switched quite quickly to another DE I had on hand.  I won't even speak on the Vector at this point other than to say it looks awesome, feels great in the hand and it will get a fair shake when my new blades arrive.  The other big issue was some fairly severe skin irritation I was getting from the soap.  Strange as I have used this soap before and don't recall a reaction (or at least it was mild enough I didn't retain it).  Today it was borderline wash-it-off reaction and once the shave was complete, I knew I should have.  My skin felt very unhappy post shave.  This is a Kaizen base which I know isn't base related so it must be a frag reaction.   One other thing to note, this is the darkest soap I can recall seeing.  It is almost black and even lathered it remains a very dark colour.
Bad news since I really like this scent.  It is inspired by Tom Ford's Lost Cherry.  Notes are Black Cherry, Bitter Almond, Cherry Liqueur, Tonka Bean.  I get a creamy, sweet and slightly boozy scent with a cherry vibe over it all.  Very warm (extremely warm if you factor in the skin reaction, ha ha) and inviting.   I'd say its similar to PDM Pegasus with a blast of cherry added in.  Scent strength is mid strong.
I followed up with the matching splash and while I don't think it caused any more reaction than the soap was giving me, I didn't find it did anything for my skin.  The damage was already done.  My skin was left quite irritated after the shave.  Several hours lather and my skin feels pretty dry, a little patchy and red in spots.
Well, at least I smell damn good.  I followed up the shave with a couple sprays of Zoha Aroma Cherise, their take on Lost Cherry.  Of course I forgot to photograph it but I can say it smells great and performs not half bad.  For a budget price you can get that TF Lost Cherry Vibe.  (at least I think that's what I'm getting, I've never smelled the OG)
Pretty lousy shave today but they can't all be winners.  This set is will get moved on to another home.  Hopefully they have better luck than I did.  All for now – J