Razor: Gillette Tech
Blade: Astra Green
Brush: Paragon Synthetic
Soap: First Canadian Shave Company Vetiver (Old and New base)
Other: Thirsty Badger lather bowl
In the past I've had a few of the First Canadian Shave Company products in my den.  When Randy took over the company, he did some reworking and changed a few things including the labeling and the soap base.  I've tried the old base (Barbershop taper fade, Maximo Gomez) and his new (Kink, Dickens Cider, Polar Vortex).  There are things I've liked about each and things I thought weren't for me, but I always wanted to do a side by side compare.  Well lucky for me, I won a raffle with the First Canadian Shave Soap Vetiver in both the old and new base so I now have the perfect opportunity to compare.  I did a shave today with both bases, half with one base, half with the other.  Here are my thoughts on each: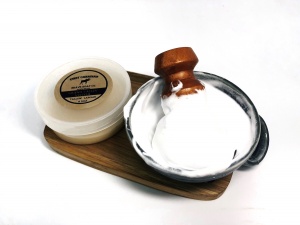 Old tub: first off, the name was originally "Grand Valley Vetiver".  Labels are brown craft paper style, smallish, and not waterproof.  I do really like the simplicity of the look.  Once opened, you find the base itself is firm, loads easily and is fairly thirsty. Off the puck you get the earthy grassy vetiver but there is a heavy lime tone to it.  I'm unsure if this is the base or something the OG First Canadian added to all scents, all the OG products I've tried have this lime smell to it.   I find the scents mid to mild as well.  It fits well in the Maximo Gomez, but the others I feel it just makes them smell too similar.   I always get a great lather.  Cushion is really good, slickness is average, postshave is average.    Verdict: I will for sure have a First Canadian OG in my den as I really like the base and simplicity of packaging, but due to the lime common note, I probably wont carry a second.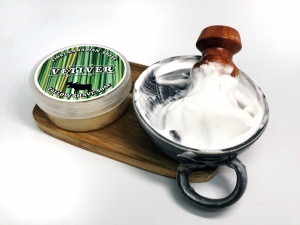 New tub: right off the bat you can see the difference.  The name as been simplified to just "Vetiver" and the labels are now full size, full colour and waterproof.  The style of tub remains the same.  I really like the new look, but I also liked the old look.  If you carry more than one FCSS product you will appreciate the new labeling for sure.  Once you open the tub you find just how different the soap formulation is.  The formula is what I would describe as a tacky cream, super soft, bordering on runny.  It has a sheen to it.  The formula is so loose that you may find that everything has shifted to a side or to the lid during shipping.  I've found that to be a big PIA.  I also like to load in the tub but with this texture, it isn't the same experience.  Dip the tips and slightly swirl is probably your best bet.  You can also scoop a bit in a bowl but the tacky texture can end up making a bit of a mess.  Scent wise, no heavy lime tone on this, just a nice Grassy Earthy smell.  I'd say that these smell like two different soaps.  I would choose this one on the clarity of scent for sure.  Once you get the base loaded, you are rewarded with a really nice lather, it won't be the big pillow dense lather of the OG, but it will give you a creamy, glossy, extra slick one.  Cushion is good, slickness is fantastic, post shave is really good. Verdict:Personally, I don't love this base.  It gives a good lather with fantastic performance, but for me I have a tough time with the texture.  The shifting of the product in tub and the loading of the cream kind of spoils it for me.  It's too bad as once you get past those two small issues you are rewarded with a great shave.  Scent strength is dialed in well and the common scent tone is fixed.  If this base had a bit more firmness to it I'd be all over it.  As a result, I probably will only carry one of the new line in the den as well, unless a scent really comes at me that I must have.
In the end, both are good products, and I would suggest you try some out and have at least one in your den.  If the texture of the new formula is your thing you will love the product.  If you like a bit lighter scent and a firmer base, you can likely find an OG formula to pick up for your den as well.  Keep your eye open for Maximo Gomez, it is really good.  And now that FCSS has added aftershaves you can get the complete shave sets.
All for now,
J