Razor: Gillette Slim on 5
Blade: Gillette Wilkinson Sword
Brush: Rubberset restored with cashmere synthetic knot
Soap: Mason Boutique TLM
Aftershave: Henri et Victoria Duc de Santal
In my recent travels I did a little antique hunting.  I don't often come across antique shops but when I do I make a point of stopping in to take a look around.  Edmonton has some fantastic antique shops but most were pretty picked over or over-priced when it came to shaving gear.  I did find a couple exceptions (one in Edmonton and one in Red Deer) that had a few things at decent prices. I had to pick them up.  The Gillette slim I'm using was an antique store find.  It is in fantastic shape and with a little cleaning/sanitizing it was good to go.  The one Rubberset brush I used today caught my eye.  The knot was toast but the handle was in decent shape.  I worked a price and got a second  brush as well.  This would be my first attempt at a restore.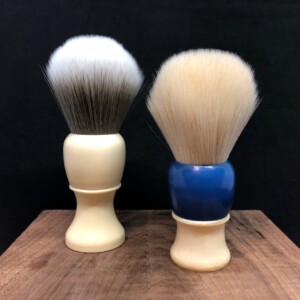 I cut off the knot with some shears and then drilled out the knot with a forstner bit and drill press.  I then used some polish (I used some metal polish I had on hand) and some elbow grease to bring it to what you see.  I could have worked it more but I liked having a few imperfections from age.  I was surprised to find the handle was hollow under the knot.  That took a little thinking and I ended up 3D printing a spacer disc for each handle to set the knot loft at 50mm.  A little epoxy and a couple synthetic knots later and they were good to go.  (The knots where in a little sample of supplies I received from Yaqi some time ago)
Back to the shave.  I was excited to give one of the restores a go this morning.  For soap I pulled Mason Boutique TLM.  Teakwood, leather and mahogany, a fantastic combination.  The scent strength is subtle to mid, but it serves the soap well.  I really like the MB base (unfortunately they are no longer making).  The shea butter in the formula gives a nice creamy lather.  Lathering was easy, soap was slick and had nice cushion, although I did find it a bit drying today.  The new brush worked great.  I probably could have set the loft a bit higher as it didn't splay as much as I would have liked but it was dense and really soft.  The handle is also a bit on the small side so it will take a bit of getting used to.  It did perform very well.
The slim made for a really nice shave.  Everyone should have a Gillette adjustable in their arsenal, they provide such a nice shave.  I do prefer the fatboy, but I really liked this slim as well.  It will be nice to have an option when I do send my fatboy away for restore/replating.
I finished up the shave with Henri et Victoria Duc de Santal.  This sophisticated, musky, sandalwood splash is really nice.  Honestly I wasnt the biggest fan when I first got it, but it has grown on me (I'm saying that more often these days, a reminder to use a product for several shaves before giving up on it)  It plays as a bit subtle to me but when I passed my wife in the hallway she commented how nice I smelled.  Not too shabby.  It contains a little bit of alcohol and menthol, but I got very little burn and a very subtle cooling effect.  A great way to finish a shave and start a Monday.