Razor: Yaqi Double open comb
Blade: Gillette 7 o'clock green
Brush: Semogue 1305 Boar
Soap: Stirling Soap Sharp Dressed Man
Aftershave: Stirling Soap Sharp Dressed Man Splash and Balm
Other: Spotify playing The Irish Descendants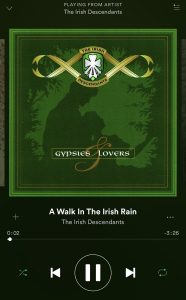 Top of the morning to you! Up today is a fine Irish shave in honor of St. Patrick's Day. Up today is a soap combo that I think will be getting some play in many a den this morning, Sharp Dressed Man. This combo from Stirling Soap Company is inspired by Creed Green Irish Tweed. It is a fantastic clean scent. And keeping with the theme "Green is the Colour", I used my Semogue Boar and a Gillette 7 o'clock green.
I had a bit of trouble getting a good lather today, but the you wouldn't tell from the resulting shave. I have a bit of a love/hate relationship with this brush, sometimes I get a fantastic and easy lather while other days (like today) I struggle to get a sufficient lather. It isnt the soap, I have used this many times and always get a great lather. Regardless, I went with what I got, slick but not as whipped up as normal.
I don't have a lot of experience with Gillette 7 o'clock blades but I may have to change that. Paired with the Yaqi I got a fantastic shave. No irritation, nice and smooth. I probably could have gotten by with one pass today (but where is the fun in that). 3 pass BBS.
For the post I used the matching balm and splash. The splash has that alcohol burn but the scent is fantastic and it calms pretty quick, and the finish with the balm left me super hydrated and smelled to notch. Ready to take on the day.
And it wouldnt be St. Patty's day without some fine Irish tunes in the den. Today I went with one of my favourites, The Irish Descendants. I have loved this band for years, a great Irish part band in traditional Irish style. I highly recommend loading them up today and giving them a whirl.