I remember some time ago I was in the midst of my first shaving related trade. (as I mentioned before, one of my favoutite things about wet shaving is the community in which you trade tips/reviews/samples/etc). I was trading off one of the lather bowls my lovely wife was making. As per usual custom, I tossed in a couple samples. The person on the other end was sending me a set (soap/splash/balm) and offered to throw in a few blades. I had got a selection of blades in my starter kit so I thanked him for the offer and said I already was setup with a good selection of blades. Boy was I wrong.
What I didn't know at the time was how many different blade options there are. Pictured above is the selection of blades I have on hand and have tried (missing is Feather, which of course I have completely used). Little did I know then, I had barely touched the surface on the wide variety of DE razor blades that are available out there. Blades are made from stainless steel, chrome, platinum, iridium, etc. They sometimes come coated with teflon or are chrome plated. You can get blades made in Japan, Russia, Greece, Turkey, Germany, Israel, India, etc. There are a plethora (thanks 3 Amigos) of options to choose from.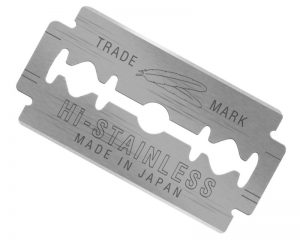 So with this variety of choices, how do you choose? What are the best? Well here is the thing with blades, there is no right answer. Some are super sharp, but don't last many shaves. Some are super consistent, making sure you get the same experience every new blade you use. You will find blades that work better in certain razors or under certain conditions. You may find a blade might not perform as well until the second use. There are so many different variables, that is it impossible to say which blade is best.
Luckily, blades are relatively inexpensive. A few bucks will get you a few to try. They will always cost you less than a 4 pack of cartridges for the Gillette Mach3 or Schick Quatro that you have hopefully abandoned by now. If you are buying or trading product with other wet shavers, there is a good chance you will get a couple blades to try, especially if they have a favourite. Try a few, ask other wet shavers what they like and you will be surprised what a difference a change of blade may offer.
If you are like me, you will try a few and eventually find a favourite that you will buy in bulk (ahem, still cost me under 20 for 100). So far I have tried Astra, Rockwell, Lord, Shark, Derby, Shaverboy, Wilkinson Sword, Voskhod and Feather. For me the Astra Superior Platinum has become my go to. I've also had really good experiences with the Voskhod and Feather, but I am still open to trying other blades. I have a couple razors (which I'm sure will expand like the rest of my den) so I know I will find a blade that work better than others in each.  I'm keeping an open mind to the wide variety of options available, and given my limited experience thus far, I highly recommend you do the same.
So what about you? What are your favourites? What blade haven't I tried that I'm missing out on and need to acquire. I look forward to your feedback.
Happy shaving!
J