This past weekend my in-laws came to visit.  My little guy is turning 5 this week so they wanted to make a trip in to deliver a gift and celebrate his birthday.  Along with a gift for him, my Father-n-law brought a little something for me, a vintage Boker King Cutter straight.  He knew I was getting in to wet shaving and when he discovered this he thought of me.
This straight belonged to his father.  Szymon was a barber back in the day.  Sadly I never really got to know him as he passed not long after my wife and I had started dating.  I wish I had more of an opportunity to chat with him about his barbering days since I've always been drawn to the days of the traditional barber shop.  I'm sure we would have had a great chat and I would have learned a lot.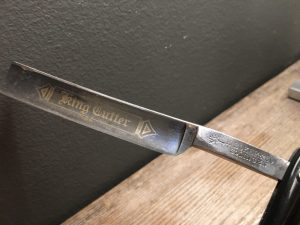 This straight is a thing of beauty.  I was told by a knowledgeable source that the blade is a 1924-1935 era boker.  The etching is still in great shape, and according to everyone I've talked to, it will give a fantastic shave.  I already have a source lined up to fully restore and get it back to shave shape.  I've only toyed with straights thus far so this will give me the incentive to continue that path.
As I've mentioned before, part of the draw to wet shaving for me is the idea that someday I will get to teach my son how to shave and will get to pass on to him his first razor.  That will now be extra special to me as I get to pass on this straight to him when the time comes and get to share the history of the razor from his great grandfather Sam.  I can't think of a better way to honor his memory.
This past weekend was Remembrance Day here in Canada, a day we set aside time to remember, honor, and pay respects to those that have given some or all to maintain the gift of freedom we are so lucky to have.  It was very fitting that I was able to get this razor on Remembrance Day as a great bridge to the past, remembering the sacrifice that Grandpa Sam gave to protect the freedoms that my family continues to enjoy.  He was a barber, a veteran, a POW, and a family man that raised a great group that continues on today.  I'm happy to be able to carry on this little piece of his history.