Razor: John Clarke & Son Sheffield 3/4″
Brush: Yaqi Silvertip Badger
Soap: The Club Warrior of Howling Fjord
Aftershave: Fine Accoutrements Santal Absolut
Other: Thirsty Badger Lather Bowl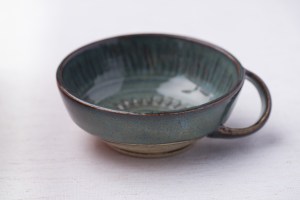 #samplesaturday and today I grabbed The Club Warrior of Howling Fjord. Scent was light off the bag but the name was cool so I thought what the heck. I loaded it in my new Thirsty Badger Lather bowl. Yeah, I've been good lately so I confiscated this one from the store to be my new lather bowl. What are your thoughts on the choice?
The scent of the soap is described as Bergamot, Mandarin, Neroli, Green Tea, Black Currant, Sandalwood and Musk. Once lathered the scent really jumped. Neroli typically isnt my thing but it really worked with the rest of the scents. The brightness of the Mandarin, Bergamot and Black Currant jumped up front, nice and bright, followed up with the green tea, and then mellowed to the subtle musk and sandalwood. It is a fantastic blend. I would really dig this one in the den.
The soap itself, I believe is the newer base. It lathered easily, although I think I needed the dial up the water a bit as the slickness wasnt what I normally expect from an A&E/Club offering. I blame the revisit with the Yaqi Silvertip. This thing is an absolute lather hog. It used to be my favourite brush but not I find it just eats so much lather that it takes a bit more work to get the lather I want. Normally the slickness would have been more than sufficient but today I opted for a full straight shave.
That's right, today I went for it, the full 3 pass shave. 1st pass I have down, no issues, no nicks, no weepers. Second pass, I'm still working on navigating directions. Face was fine, neck was a touch rough. Third pass was kind of shakey and I bit myself once and a couple weepers. I reached for the trusty alum and styptic pencil. Definite burn so I had a bit too much pressure on pass 2/3. A work in progress.
I followed up with a the Fine Accoutrements sandalwood splash, a workhorse in my den. When pairing with a new soap or sample Sandalwood is a common note so it pairs wonderfully with so many products.
All it all, a decent shave, and a bit more practise with the straight and I will be there I'm sure.