Razor: Paragon "The Ace"
Blade: Gillette 7 O'clock Green
Brush: Tournure de bois 26mm APShaveCo Gealousy
Soap: First Canadian Shave Motherf*cker
Aftershave: First Canadian Shave Motherf*cker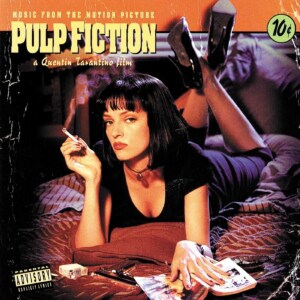 Here it is, the controversial Motherf*cker soap from First Canadian Shave Company.  I knew when this particular offering was being released it was going to draw some attention but I'm surprised just how much it has rattled the chains in the wet shaving community.  Shave groups have been divided, members kicked out and banned for even showing the soap.    Trolling, a burner troll account, etc, etc.  It's crazy.
The whole banning the soap and kicking out members thing reminded me of growing up when I was first really getting into music and there was a huge political battle over lyrical content on albums, how they needed to ban or censor or label the albums.  I'm fairly certain I picked up the NWA album purely because it was labelled.   It seemed quite fitting to me to throw these warning labels on the soap/splash… you know, to protect the innocent.  Ha ha.  Honestly, I have no issue with the label/name.  I know it is a reference to the great Tarantino film, Pulp Fiction.  I do have a young reader in the house that likes to wander my den, so I figured I'd cover it up to keep myself from having to answer that question.  And if you compare to the Pulp Fiction soundtrack art, it is very fitting indeed.
Anyways, on to the soap.  The scent on this is a dupe of Creed Millesime Imperial.  It is a citrus forward aquatic cologne scent with notes of fruit, sea salt, lemon, bergamot, iris, mandarin orange, musk, woods and other marine notes.  It is very well rounded and versatile scent.  Admittedly I'm somewhat scent blind to certain citrus scents and this may be one of them.  Feedback on this soap was that it was strong but for me that just isn't the case.  I'd say it is on the lighter side of medium for sure (although it does punch up a bit once lathered).  My wife was not in agreement with my assessment on that, she got much more scent off the puck, hence my comment about the scent blindness.  What I can say is that this soap performs like a champ.  This particular offering is in the First Canadian Buffalo milk base, which is elite level good.  I have both Randy's goat milk and buffalo milk base and while both are excellent I think this has the slight margin for just a bit more richness and post shave feel.  The base loads and lathers very easily and punches up there with any top tier base.  If you haven't added a First Canadian set to your den yet, you are missing out.
The razor I used today was the Paragon Ace.  This is the most aggressive non-adjustable razor I own.  It is also the heaviest.  For those reasons I don't use it often but the look of the heavy matte black handle just screamed to be paired up for this shave.  Surprisingly, loaded up with the Gillette 7 o'clock Green blade, I found it incredibly comfortable today.  No nicks or issues.  I recently discovered the pack of these blades and I'm pretty impressed how comfortable they are.  I may need to add more to the den.
I finished up with the matching aftershave from First Canadian.  The scent in this cuts through more than the soap and is on the stronger side of medium for me.  The brightness of the citrus really punched through.  No irritation and a great post shave from the soap, but this witch hazel based product added just a little bit more and sealed in that scent to carry for a while longer.  An absolutely perfect shave.
Just remember folks, it's just a label.  If you don't like it, cover it up, or scroll on by.  Heck, pick a different scent to try if you that just doesn't work for you.  But let's not get too worked up, it's just shaving.  All for now – J